Las Vegas Movers
Dependable local and long-distance movers serving "The Silver State"
Your move deserves a team of trusted and dependable movers who will provide you with honest estimates and treat your belongings with the greatest care. With so many moving companies in Las Vegas, NV, how can you know if the company you've chosen is one of integrity?
For starters, they will be upfront about pricing and talk over moving logistics with you in detail. Such a moving company will be on time when moving day rolls around and effective at moving items into the truck carefully. Their home or commercial movers will be ready to answer or address any of your concerns by communicating with you freely throughout the process.
Slater Transfer & Storage is humbled by the customer reviews we've received over the years that let us know that our efforts to be that kind of dependable moving company have paid off. We always strive to provide the best service possible throughout Las Vegas and Nevada. Request a free estimate from us today and check out local and long-distance moving services below to see how we might be of service to you.

Professional Packing and Moving Services in Las Vegas, NV
Don't trust your most important residential and commercial moves to just anyone with one or two big trucks. Trust experts with over 40 years of experience. Trust professional movers with an international network of local and long-distance movers in Las Vegas, NV. Trust Slater Transfer & Storage.
We offer comprehensive and professional moving services for all your needs, including local moving services for homes and businesses. We also handle long-distance moves with ease using our extensive resources as an Atlas Van Lines agent. Find us in North Las Vegas, NV, where you can buy moving boxes and packing supplies, as well as store any belongings while in transition at our indoor storage facilities.
Contact us to begin coordinating everything from corporate international relocations to local moves across Las Vegas and Nevada. Our local and long-distance commercial movers take the worry and hassle out of moving your business to a new office or commercial space, with our special equipment for computers and other sensitive items. We provide the same great care with our home moving services. From packing belongings safely to unloading everything upon arrival, our local and long-distance movers will do everything in their power to ensure your satisfaction. Choose specific items for us to pack carefully, or arrange for our full-service packers to take care of all your belongings. Our 40+ years of experience have taught us the most efficient and organized approaches for packing up homes, apartments, office buildings, and more. No job is too big or too small for our packing and moving company!
We hope to provide you with a stress-free move at an affordable price through careful coordination and reasonably priced services. Work with us for an efficient, safe, and cost-effective move in Las Vegas, NV, and beyond.
Moving consultations and free estimates
Pre-move surveys to learn your priorities
Professional moving services and personal project managers as your point of contact
Clean, fully-equipped moving trucks
Licensed, residential and commercial movers in Las Vegas
Extensive background checks and extensive, ongoing training for all employees
Equipment disassembly and reassembly
Price markdowns for packing boxes and moving supplies when paired with our packing services
Full-service packers and movers for residential homes, condos, apartments, commercial offices, etc.
Flexible packing plans including single room and single item packs!
Complete and careful site preparation
Budget and time estimates
Specialized equipment for difficult moves
Air-ride vans with lift gates
Two 80,000 sq. ft. indoor storage facilities in North Las Vegas
Dependable movers serving customers in Las Vegas for more than 40 years
With Slater Transfer & Storage, you get a professionally trained and courteous crew backed by over 40 years of licensed and insured moving experience. Contact us today to request a free quote for any of our storage, packing, and moving services in Las Vegas!
Full-Service Professional Packers in Las Vegas, NV
Excited about your move, but avoiding the inevitable packing process? We know how tiresome and stressful packing up belongings can be. For many of our clients, it's the worst part of the moving process and the most time-consuming. Luckily, Slater Transfer & Storage offers professional packing services to get your home or commercial space packed up sooner.
Our dependable packers and movers based out of Las Vegas, NV, serve the entire state with reliable services at great prices. Contact our expert team in Las Vegas today to learn more about our flexible and full-service packing plans. Our Nevada location also sells new and used moving boxes and packing supplies at great prices! Receive a free packing and supplies estimate today.
Local Movers in Las Vegas, NV
Even if a local move isn't as great of a distance as a cross-country or international move, it's still no small feat. At Slater Transfer & Storage, we treat all moves with the same care and respect. Our licensed, insured, and dependable movers will help load and unload all items in your home or business, keeping belongings and supplies protected and organized. We even offer professional packing services to save you time!
Your satisfaction is our top priority, and we're going to make sure we do all we can to show you that. Call today to take advantage of our local moving services near you in Las Vegas, NV. Need to store items in this transition period? Keep them in one of our 80,000 sq. ft. Las Vegas storage facilities, available for commercial and residential use.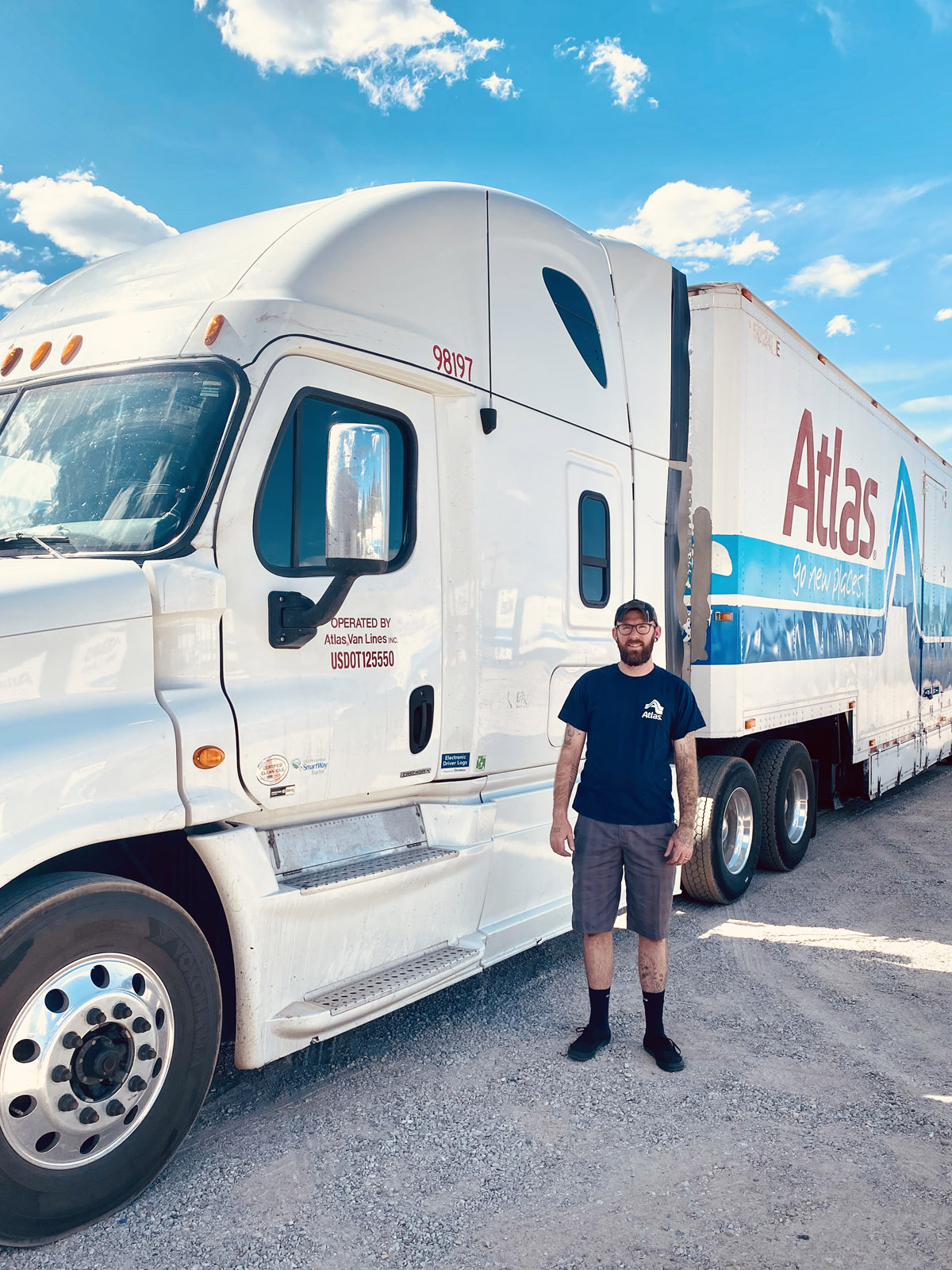 For all your residential and commercial local moving needs, contact Atlas Van Lines Slater Transfer & Storage today. We proudly help local residents and businesses move within Las Vegas and other nearby areas within the state of Nevada.
Long-Distance Movers in Las Vegas, NV
Interstate and international moves involve a whole different type of risk than local moves. Without the right team of long-distance movers, complications can arise that only bring unnecessary stress to what should be an exciting new beginning.
That's where Slater Transfer & Storage is here to help. Our dependable movers of integrity provide you with honest estimates and respectful care that will protect your belongings no matter how far the move. With over 40 years of experience, our Las Vegas moving company knows a thing or two about how to pack up and load items efficiently to get them safely to your next destination.
Why Choose Our Long-Distance Moving Company in Las Vegas?
As part of the Atlas Van Lines family, we belong to a worldwide network of trusted movers. You might have seen a long line of our moving trucks or specialized fleets rumbling down the interstate or in your neighborhoods. Atlas Van Lines can be found around the globe, providing the support and professional moving services you need in any move.
With Slater Transfer & Storage, you get access to that large network of esteemed movers, starting with our local moving company and the personalized service and care we offer. Get the best of both worlds: small business attention with big-name perks.
Interstate Movers in Las Vegas, NV
Whether you are packing up your home in Las Vegas to move to another part of the state or moving across the country entirely, contact Slater Transfer & Storage. You'll have access to your own project manager who will work with you to coordinate what needs to be accomplished in what time frame.
When moving day arrives, our long-distance movers will arrive promptly to begin. Arrange for them to come beforehand to pack up your entire home or office if you would like the extra help packing, especially for those large and awkward items.
We'll be there to assist you in unloading belongings at your new home or business location. By carefully loading items before the move, our movers make unloading more efficient with color-coordinated boxes for each room. Our goal is to make this interstate or cross-country move one with as little stress and hassle as possible. Call us for interstate, professional moving services today to get started!
International Movers in Las Vegas, NV
Any move is exciting, but foreign and international moves especially come with large amounts of excitement and maybe a hint of anxious anticipation. Where do you even begin if you're relocating to another country with its own regulations?
Because Slater Transfer & Storage is connected to the large Atlas Van Lines network, we're the experts to call for international moving services. Our Las Vegas moving company will answer any questions you have about moving out of the United States and what you can expect. Most of all, we'll give you the peace of mind that your belongings will be transported safely and treated with the utmost care.
Same as we would with a local move, your personal project manager will create a moving plan with you to avoid complications and mishaps. This coordination before the move will be a key component to ensuring a smooth transition with a team of dependable movers on your side. Each of our employees and our international partners receives extensive background checks so that our clients never have to worry about their prized valuables falling into the wrong hands.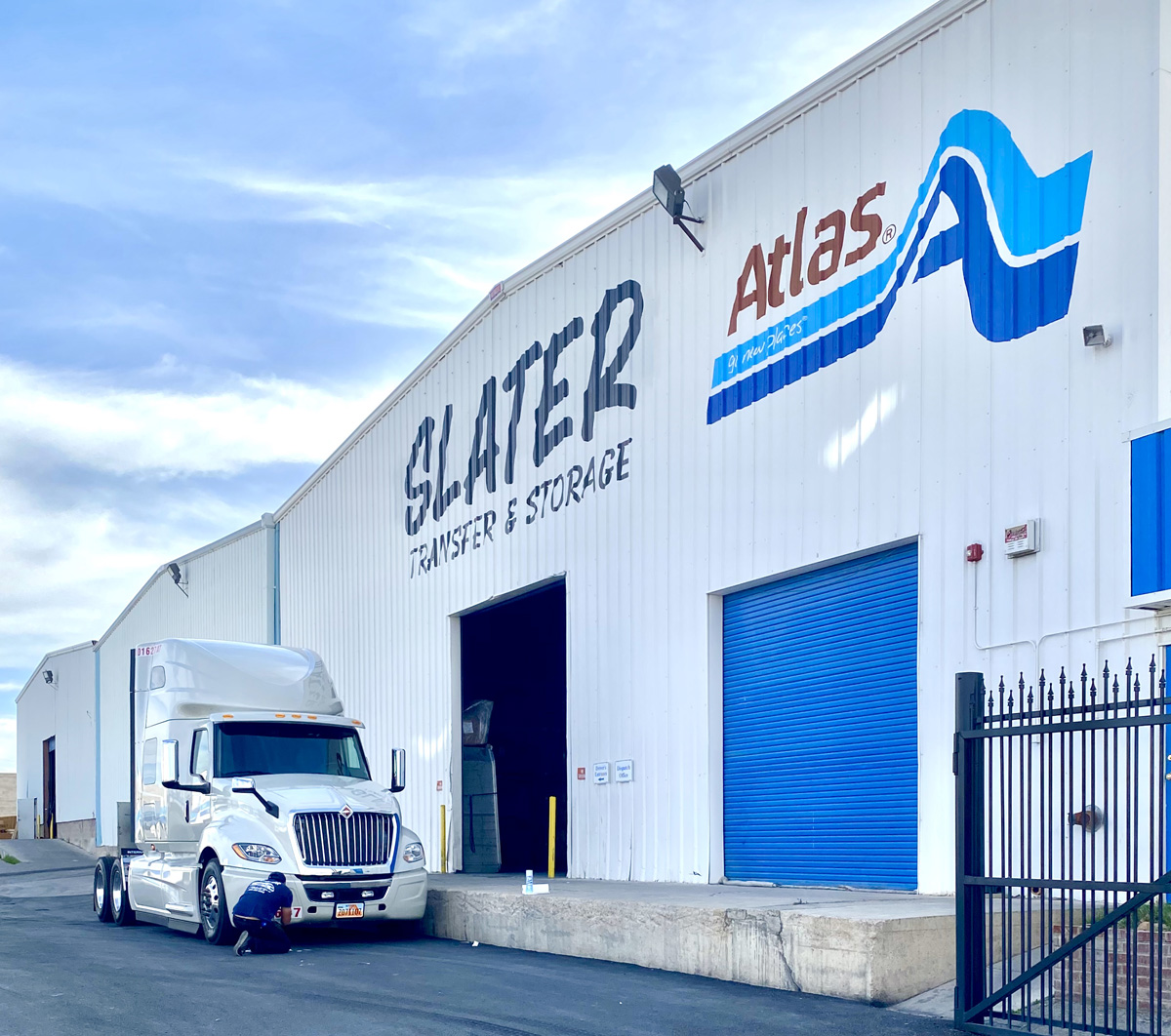 Your project manager will complete a pre-move survey to check for all items coming with you in the move and any that need to be transported into storage. If you're moving out of Las Vegas or in surrounding communities, we have convenient, indoor storage facilities just north of the city.
Contact us to meet with your dedicated project manager and to receive a free, no-obligation estimate from our long-distance moving company! Each member of our team strives to show consideration for you and your belongings. Our friendly service and high standards of integrity set us apart from other professional moving companies in Las Vegas. We have the experience, skill, resources, and flexibility to make this international journey stress-free.
Senior Movers in Las Vegas, NV
Slater Transfer & Storage helps seniors in Las Vegas with professional packing and moving services. Our extensive senior moving services are available if you're looking to settle into assisted living or downsize into a new home. This can be a stressful and emotional process, but with our compassionate and reliable moving company, we make relocating a breeze.
Contact us to assist you from the initial packing stages to the final unpacking steps. Each of our clients works one-on-one with their project manager to coordinate a timeline and logistics for the move in or near Las Vegas. Our experienced team can help you downsize and decide on items to pack up for your new home. This part of the process is often a sensitive one and requires great care and consideration. We will be empathetic and give encouragement and support where needed to make this new transition.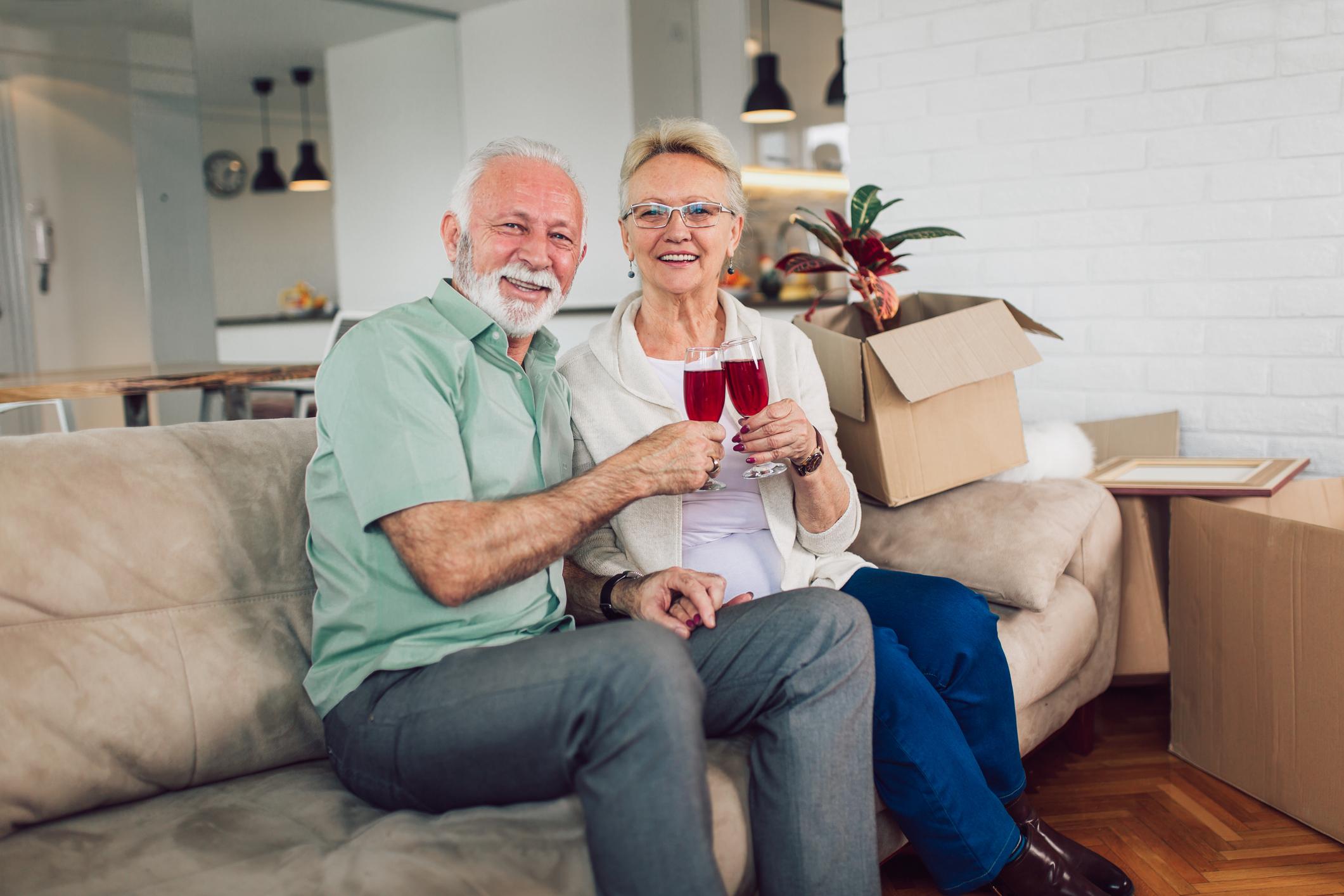 When we arrive at your new address, we will unload and unpack items to help you feel settled and more at home. That includes connecting electronics, unloading dishes and kitchenware, hanging pictures, and rearranging furniture.
For thoughtful and compassionate senior movers of integrity, call Slater Transfer & Storage. Let us help you make this a successful transition by providing the utmost care and kind support along the way. We'll help keep your belongings organized and safe before, during, and after the move! We hope to earn your trust by exhibiting our exceptional service, addressing any concerns, and showing how much we care about you and your satisfaction
Nevada Movers
We are a premier Nevada moving company with the highest levels of customer service based out of North Las Vegas. Our team will make sure your local or long-distance move is handled quickly, professionally, and carefully. We invite you to look over our website to see all we have to offer and send us a quote request so that we can customize your moving experience.
Customer care and satisfaction are our movers' primary goals. We make it our top priority to deliver efficient, worry-free moving services in Nevada at a very competitive price. Each move is planned and coordinated according to each individual's needs.
For over 40 years, our clients have entrusted us to transport their belongings safely. Our trained, licensed, and insured movers make that possible for each move. They are why we have developed a reputation for high-quality service in our industry. Look forward to your residential move or commercial relocation with help from these dependable movers conveniently located in Las Vegas.
No matter what stage of life you're in, Slater Transfer & Storage has the experience and resources you need for a smooth move. From helping new families move into a larger home across town to assisting with senior moving as loved ones downsize or move into a senior living facility, we offer compassionate and reliable moving services.
Commercial Movers in Las Vegas, NV
Commercial moves in Las Vegas can be tricky. You (almost literally) are putting your future into your commercial movers' hands. Slater Transfer & Storage understands what your business means to you because we feel the same way about our own moving company. That's why we treat every commercial move like we would if we were moving locations ourselves. We guarantee to keep your computers, business equipment, commercial products, and other items protected during a local or long-distance move.
Our Las Vegas moving company was founded on principles of integrity and providing quality solutions to our clients, standards we still live by today. Work with our commercial movers to make this transition smooth and simple. Our licensed and insured team can help move various pieces of equipment or supplies to a storage facility or another location, as well as move your entire company as it relocates. No job is too big or too small!
Request a quote today for relocating your business and its employees locally in Las Vegas or to national and international locations.
Storage Facilities in Las Vegas, NV
Not every storage facility in Las Vegas can boast that it's been approved for usage by the U.S. military. But ours can. At Slater Transfer & Storage, we strive to ensure the safety and utmost care of your belongings at our state-of-the-art, 80,000 sq. ft. indoor storage facilities in North Las Vegas, NV.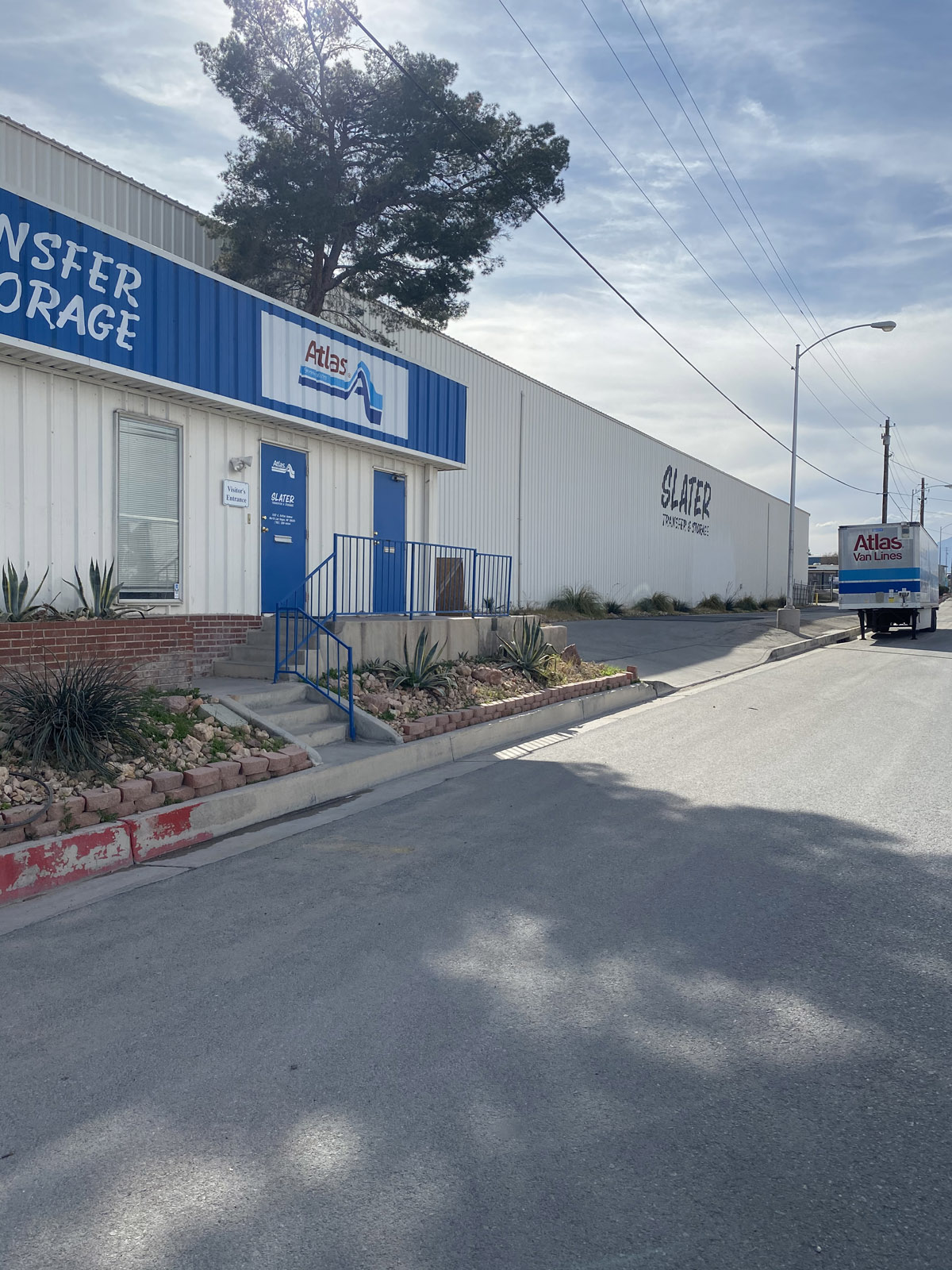 We keep careful track of all items with an up-to-date inventory and maintain a clean establishment to prevent pests and grime from ruining valuable belongings. Our facility is equipped with an advanced alarm system and is properly maintained by our on-site staff. We also offer racking for palletized products.
For homeowners in transition as they move between homes, business owners needing a safe location to keep inventory, or anyone looking to store items safely, get in touch with Slater Transfer & Storage today.