4 Tips for Storing and Organizing Your Christmas Decorations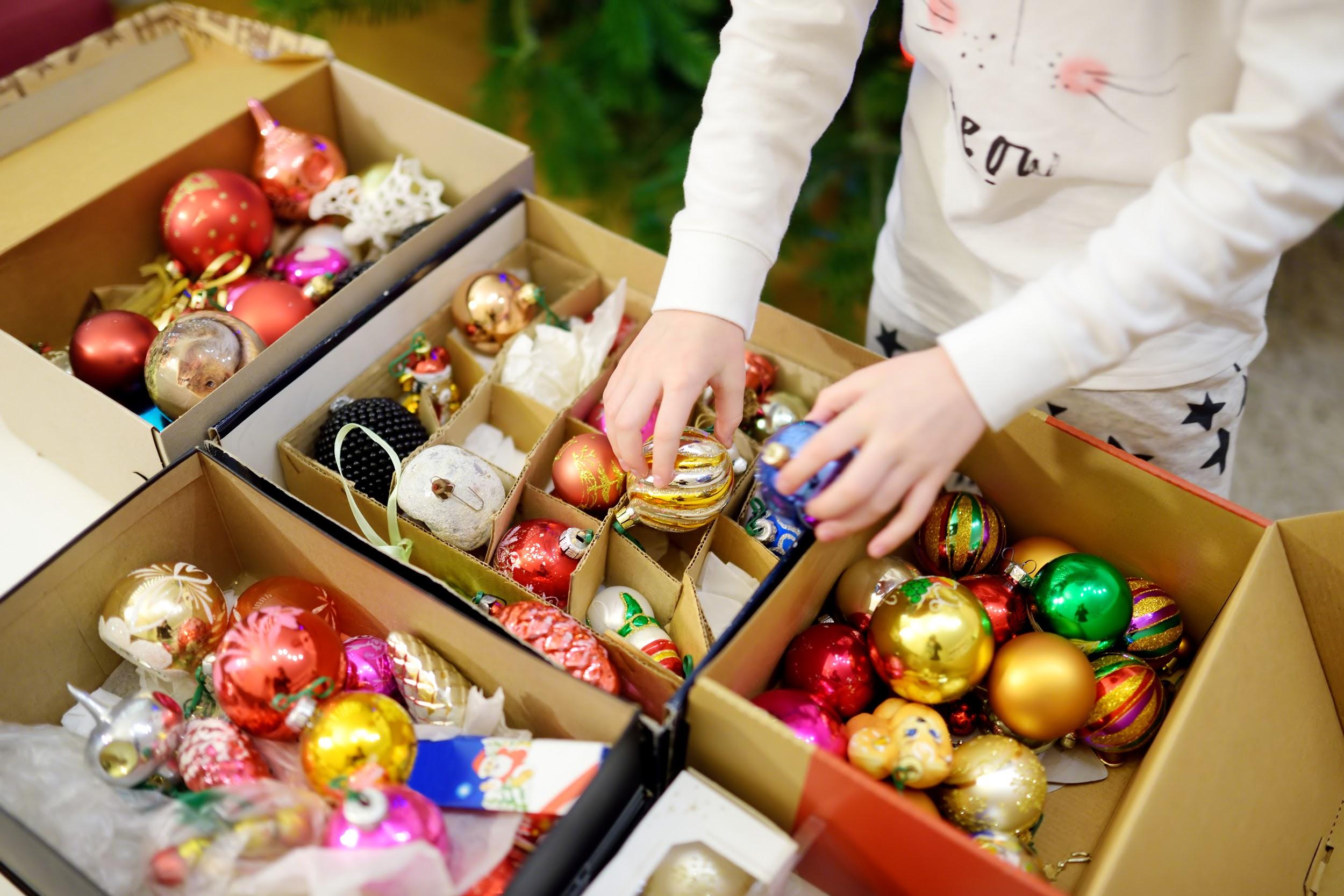 Christmas is a wonderful time of year to gather family members around the tree and enjoy time together! Decorating for the season is the perfect way to get into the holiday spirit, especially if decorating is a family tradition. Could you imagine, though, if you went to collect your decorations just to discover that a box had fallen from a tall shelf? Christmas ornaments, lights, and delicate creches can smash easily. Follow these four tips and avoid the tragedy of losing, damaging, or misplacing your Christmas decorations!
1. How to Store Artificial Trees
The main key to storing artificial trees properly is to disassemble the tree in reverse order to the method you assembled it. If your tree is divided into two or more sections, it doesn't necessarily matter which end of the box you start with. But as happens often, the top of the tree may store beside the middle. If the branches fold inwards for storing, or even separate from the center, always remember how they came out of the box. This will save you a ton of time and frustration!
2. Storing Gift Wrapping Supplies
If you are anything like the average family, you probably have rolls of gift wrap lying about the house without a real place to call home. Without proper storage, gift wrap and other supplies can deteriorate and become brittle thanks to humidity and temperature changes. Tape can yellow, and ribbon left out in the open can even attract moths depending on their materials.
Unlike more delicate items of Christmas joy, gift wrap and other supplies can be easily stored on upper shelves without the risk of breaking. Plastic bins for tape, ribbons, and twine are a great place to start. And wrap up your gift wrap in garbage bags to keep the paper dry and ready for the next season.
3. Ornaments and Ceramic
Of all Christmas decorations, these are perhaps the most difficult to pack and unpack. If you are lucky enough to have kept the original packaging for the Christmas baubles, storing will be much easier. But if you do not have simple storage like this, the solution for these items comes in three steps. These are:
Protect and insulate the items to the best of your ability. This means paper, packing peanuts, bubble wrap, and other materials that can prevent breakage from falls.
Store your decorations in boxes or plastic bins with precision. Keep in mind that you will want to unpack the same ornaments for the next year.
Store delicate items on lower shelves. This will prevent them from falling.
Following these rules will ensure your most delicate ornaments last for years!
4. Christmas Lights
Have you ever dealt with a line of Christmas lights that might as well be a ball for the number of tangles wrapped around? With a bit of preparation, the days of having to untangle Christmas lights will be a thing of the past!
One of the best purchases you can make for keeping your lights organized is a Christmas light reel. Made of plastic or metal, reels work like winding a hose and come in a variety of sizes for any kind of light. On a reel, your lights will be a long single line without any tangles.
The professionals at Slater Transfer and Storage know a thing or two about storing delicate items for major moves. If you need somewhere to store your delicate holiday decorations in Utah, New Mexico, and Nevada, come to the experts at Slater Transfer and Storage. We can also help you pack up your items to ensure that they're safe and snug before storing them.
Contact us today for more information on our storage and packing services to make sure that your precious seasonal items last for years to come.